Agape Strong – Hide Not Your Talents Fundraiser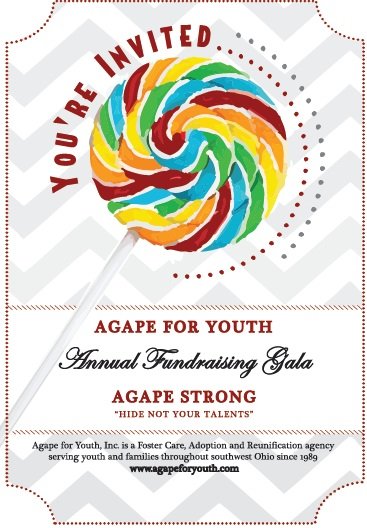 Thank you for taking time to get additional information on the 2013 Agape for Youth, Inc. fundraising gala.
It is going to be a fun filled event complete with the music of Wade and The Mojo Blues, the culinary expertise of Chef Jack Skilliter of the Dayton Racquet Club, live and silent auctions, all while raising funds to provide additional service and programs for the children and families being served through Agape.
The cost of tickets for the event is $50.00 per person and your parking at the Kettering Tower Garage is sponsored by the Dayton Racquet Club.
Agape for Youth, Inc. is a 501©3 non-profit treatment foster care, family foster care, adoption, and reunification services agency located in Dayton, Ohio that has had the privilege of serving youth and families throughout southwest Ohio since 1989.
Please know your support as an attendee to gala is greatly appreciated.
To purchase tickets by Credit Card now, fill out this form and you will be directed to a secure donation page.
https://connect.firstdataglobalgateway.com/IPGConnect/gateway/processing
Thank you for joining us at this fun filled evening, raising funding to provide additional services and programs for the families and children served at Agape through our Foster Care, Adoption and Reunification Services programs.
Thank you ahead of time for helping us make a difference in our community, one child, one family at a time.
If you have questions or would like to purchase tickets by check, please feel free to contact Sandie Geib, Promotions and Support Services Coordinator at 937.439.4406 ext. 22 or via email at sgeib2@agapeforyouth.com.