Agape Christmas Shops with Brandon McKinney
The BJ Kids 91 Foundation in partnership with Agape for Youth hosted "Agape for Youth Christmas with Brandon McKinney".   Mr. McKinney, a Dayton native and NFL defensive lineman, provided gift cards for 18 families, totaling 88 individuals, for them to have a Merry Christmas.   The families that received the gift cards and shopped are from the Agape Reunification Services program, having successful completed the program and have their children in their care.  The Target store on Shiloh Springs Road in Trotwood opened their doors for this event and volunteers assisted families with picking out gifts and wrapping them.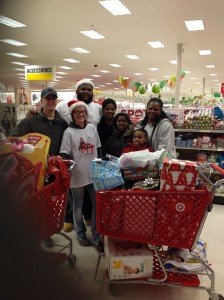 The Board of Directors, staff, families and children of Agape want to thank Brandon McKinney and the BJ Kids 91 Foundation for their generosity to and support of families and children we are serving in our community.  We would also like to thank the numerous volunteers that gave of their time to make with event possible.