Agape Recruitment signs are in Full Bloom!
Have you seen the bright green signs around the community that are popping up like dandelions after a spring rain?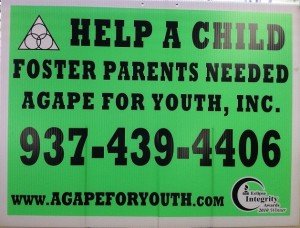 Agape for Youth,Inc. is looking for families and individuals that are ready to open their heart and their homes and help us change the world one child at a time.
Our monthly no obligation Orientation to Foster Care class is held on the 1st Tuesday of each month.
The May 2013 Orientation is on Tuesday, May 7th.
For additional inforamtion or to RSVP to attend please contact Val at 937-439-4406 ext. 13.